Meet the tutor (Performing Arts)
Annarita Mazzilli, Lead Tutor Performing Arts
Annarita is from Bari in Italy. In 2003 she graduated with a BA in Dance from Bretton Hall College (Leeds University), and in 2006 she became a member of Transitions Dance Company and completed her MA in Dance Performance at Trinity Laban Conservatoire of Music and Dance.
Annarita's ballet classes are based on the Royal Academy of Dance technique and style, and her contemporary dance classes are based on principles of Release and Limon techniques. The main emphasis is placed on, breath skeletal alignment, joint articulation, ease of muscular tension and the use of gravity and momentum to facilitate movement.
Classes include floor work and fast pace travelling sequences. In her classes, Annarita's aim is to develop the participants' own movement and artistic voice through acquiring dance skills, engaging with others and providing them with opportunities for exploration and experimentation.
Rowena Ritchie, Flamenco Tutor
Rowena has been teaching children and adults since 1998. An accomplished flamenco dancer gifted with an instinctive style and spirited presence in her performance and teaching, she is a highly regarded teacher in the London Flamenco scene.
A compassionate yet ambitious teacher, Rowena particularly enjoys the achievements of her students. Rowena trained in London and in Jerez de la Frontera with many of the top flamenco teachers. As well as her regular teaching commitments, she has delivered successful workshops for schools, events and at festivals. Also notable institutions including Sadlers Wells, Royal Academy of Dramatic Arts and the Barbican.
She has also produced many flamenco shows for theatre and festivals, as well choreography and advice for film and theatre.
Donald Gamble, Hand Drumming and Percussion Skills Tutor
Donald is an accomplished percussionist who has been teaching children and adults since 1994, developing much teaching experience working in schools and colleges.
In his classes Donald's focus is on teaching the technical skills of hand drumming, but he also aims to awaken creativity and passion amongst his students.
Donald has toured, played and recorded with Courtney Pine, Ronnie Laws, Jean Toussaint, Brian Auger, Mother Earth and Corduroy amongst many others. He has toured and travelled extensively to countries including Japan, Philippines, Singapore, South Africa, West Africa, Brazil, Argentina, Uruguay, Columbia, Australia, Israel, Turkey, Greece, Russia, Canada and many other countries.
He has much experience working with jazz, pop and world music. He has created a unique and personal style and approach to his percussion work. Donald is passionate about his teaching and has established a very stimulating and successful teaching approach that continues to inspire creativity with his students.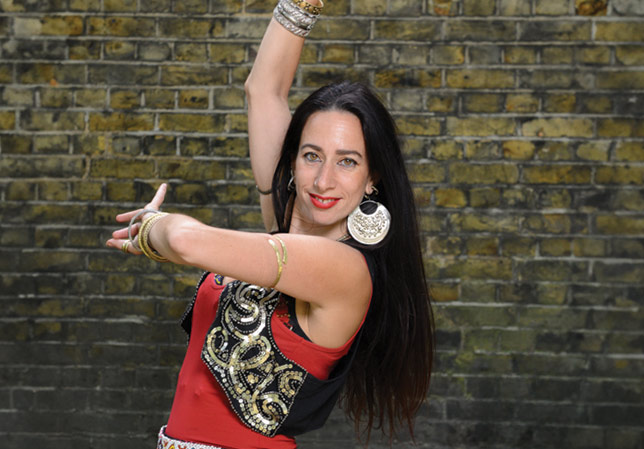 Linda Cremin, Belly Dancing Tutor
Linda was given a Roma and Travellers' soul by birth, and a dancing soul into her cradle. Her mum is a Roma from Bulgaria and her dad is an Irish Traveler. As a young child Linda moved around Egypt, Saudi Arabia, Gaza and Germany, where she picked up the traditional dance styles as they went along. The family base however was from her early childhood onwards in Hackney, where Linda had trained in contemporary and street dance at pineapple studios and the world Irish dance association. Her stay in Egypt and Saudi Arabia inspired her to study belly dance. Linda has trained in classical Egyptian belly dance with one of London's leading teachers Michaela Sandor, fitness, traditional folklorist and the RaqSharqi society.
She also trained in a variety of other styles including flamenco, Eastern European and Irish folk dance, Indian Katak dance, Bollywood and Russian gypsy. Linda believes that learning is part of living and her passion for dance has led to travelling and studying dance with traditional dancers from mauri Berber tribes in Morocco to zar dance in Africa and the middle east. Linda is also highly influenced in tribal fusion belly dance and has studied with ATS renowned dancers Philippa Moiria, Hannah mi Anis and colleen Shakti from the fire water collective.Linda performs regularly with one of London's top gypsy/world music band 'Shkembe Soup' as well as the vibrant Balkan influenced band 'Tacho Trom'.
Linda has also performed and collaborated with the famous middle eastern drum musician Seddick Zebiri and other talented artists. Teaching is Linda's passion, to inspire, guide, enlighten and motivate.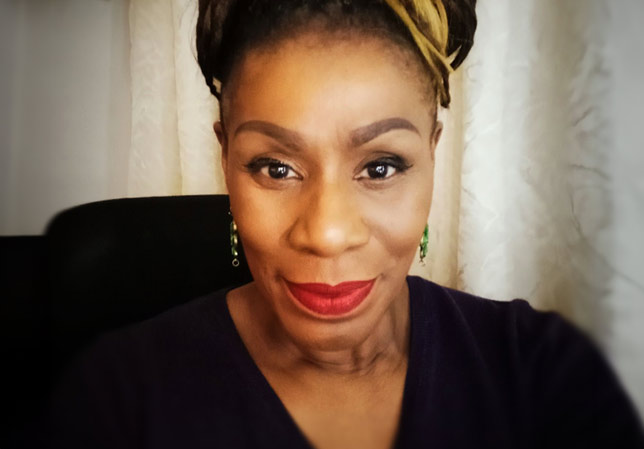 Cynthia Gerald, Singing Tutor
Before becoming a Tutor for The Idea Store Cynthia Gerald has been honing her skills a singer for many years performing with some of the finest soul, pop and reggae artists. She began her career achieving the honour of performing backing vocals for Womack and Womack on the 'Teardrops Tour' and furthered her career working with a plethora of Reggae artists including Bob Marley's son Kymani Marley, Luciano and Black Slate. Her vocal abilities have given her an opportunity to work with British Jazz legend Courtney Pine at the famous Ronnie Scotts Club. Needless to say Cynthia has a wealth of experience on the live scene.
She has been a Workshop Tutor for The idea Store since 2008 facilitating workshops in diverse vocal skills namely Jazz Vocal Technique, Free your Voice and Sing The World.
Cynthia has devised Ska and Reggae Workshops to aid in the knowledge of the Caribbean Diaspora for Black History Month within Tower Hamlets and all over the British Isles.
She has ran intergenerational projects with the Sundial Centre and Globe Primary School called 'Parallel Lives' culminating in a performance at The Childhood Museum. Cynthia is very active within her local community teaching Music in schools all over Tower Hamlets.
Joyce Gyimah Jazz, Contemporary and Ballet Tutor
Joyce is an experienced dance teacher and movement specialist working in a range of genres from Jazz Dance, Contemporary and Ballet. Her training began at Lewisham college followed by degree level study at Trinity Laban conservatoire of music and Dance. Since Graduating in 2002, Joyce has worked as a freelance dance artist and manager for a range of dance institutions and organisations including Trinity Laban, Greenwich Dance Agency, Greenwich Musical Theatre, Union Dance, UK Foundation for Dance, Tavaziva Dance to name a few.

Joyce has delivered and facilitated workshops, residencies and choreographic projects in a range of dance styles. Joyce is well known for her passion for teaching Mattox Jazz technique, as well as Contemporary and creative dance forms.

She has taught one-off workshops and long-term courses for actors, dancers and dance enthusiasts. Joyce provides a safe, fun and nurturing environment for students of all abilities.
Claude Alexander, Jazz Improvisation Skills, Jazz Genres Drumming and Piano Keyboard Skills
Born in Los Angeles, Claude moved to London in 1996 and works as a jazz pianist and in a variety of settings as a music teacher. He has an honours degree in music education from London Metropolitan University, a lifelong learning certificate from Birkbeck College, UCL, and has had other teacher-related training. Claude has been teaching Idea Store Learning's piano and drum kit courses (and previous guitar courses) since 2015, and from September 2023 will lead an additional course, Jazz Improvisation Skills.
Committing to teaching music in 2000, Claude privately teaches all ages (16+) of singers and players of most common instruments, from beginners to advanced pros. He specialises in teaching jazz and its skill set and in devising simple, 'real music' learning routines that develop practical fluency with all elements of music relevant to western genres.
Claude's vision, 'philosophy' and strategies for progressing musicianship are drawn, aside from his formal training, from more than a decade of study with the renowned jazz saxophonist Warne Marsh, an occasional performing colleague of Charlie Parker's and former student and then bandmate of the revered jazz teacher and (blind) pianist Lennie Tristano. Nevertheless, details of the practical learning routines and curricula recommended for Claude's students are his, and they are tailored collaboratively to meet students' individual needs and goals. He prioritises a fun learning experience for students in lessons and when practising at home.
George Fiawoo, African Dance Tutor
George is a dancer, musician and accomplished storyteller. A well-known face on the culturally diverse arts scene, George has performed several times on television, including ITV's GMTV, BBC1's Blue Peter with his dance troupe Jazira and the BBC game show, Generation Game.
George has also helped to successfully launch a number of acclaimed Western African bands. As part of his educational work over the past thirty years, George has led In Service Training and workshop sessions at the Commonwealth Institute for six years.
He was also one of the core artists for Oxfam's Millennium On-The-Line project, has run extensive training programmes for VSO and performed alongside fellow storyteller turned TV producer Floella Benjamin. George now specialises in workshops teaching West African percussion, dance, drama and storytelling.
 Julie Weeks, Salsa Tutor
Winning a UK championship in Salsa, a European championship in Bachata and having her performance team placed 3rd in the European team championships, she found a love for choreography.
Julie has taught and performed at countless Latin events. More commercial events include
performing at The Notting Hill Carnival with Moe Flex Dance
dancing in videos with artists such as Beverley Knight
performing in the 2014 dance movie Cuban Fury
In 2008 she started teaching ladies styling and technique at Bar Salsa in London. Giving students all the knowledge and experience that she has gained over the years.
She continues to teach at Salsa, to this day, and from this class several of today's UK based female teachers have profited from her training.
Holding an Associate IDTA in freestyle Dance, and an ISTD in modern dance, she studied On1 Salsa under Susana Montero three times British champion, who now resides in Madrid. Julie continued her Salsa education in NYC with the On2 Salsa king and inventor of ET timing and style Eddie Torres. Having performed and worked with many of the best UK teachers and performers such as Moe flex , Fadi k, Dani k, Otrandanz, Sleek Arrows, Bar Salsa, etc. She is a well-known and respected instructor in today's ever thriving Salsa scene.
With a love for all the genres of Salsa, Julie offers a fun but well informed class. It provides a thorough education in dance and its many genres. Having expertise in Salsa On1& On2 as well as Cuban Salsa and Rueda . With a love for music and dance her enthusiasm for movement is infectious and she passes this on to her students. Salsa is a wonderful social dance, and can be done anywhere in the world. A place where students can make new friends and come together with a love of dance and music.